描述
適用於MAKITA牧田電池BL1815, BL1820, BL1820-2, BL1830, BL1830-2, BL1840, BL1840-2, BL1850, BL1850-2及14.4V電池
| | |
| --- | --- |
| 電池型號 | 充電時間 分鐘(mins) |
| BL1850(5.0Ah) | 45 |
| BL1840(4.0Ah) | 36 |
| BL1830(3.0Ah) | 22 |
| BL1815N(1.5Ah) | 15 |
| | |
| --- | --- |
| Net Weight | 2.5 lbs |
| Overall Length | 200mm |
| Voltage | DC 12-18V |
亦適用於MAKITA牧田電池BL1041B, BL1021B電池,日本牧田 DC10SA 的 220V電壓版本,適合香港一般家用。
| | |
| --- | --- |
| 電池型號 | 充電時間 分鐘(mins) |
| BL1041B(4.0Ah) | 60 |
| BL1021B(2.0Ah) | 30 |
Life time work volume
The charger communicates with the individual cell in the battery and controls current, voltage, and temperature. Both rapid and optimum charge are achieved making battery life longer.
Optimum Charging
It is necessary to cool down the battery before you begin to charge it – as after use it is at a very high temperature. We are able to produce fast charge times because our batteries & charger are kept cool while the battery is connected.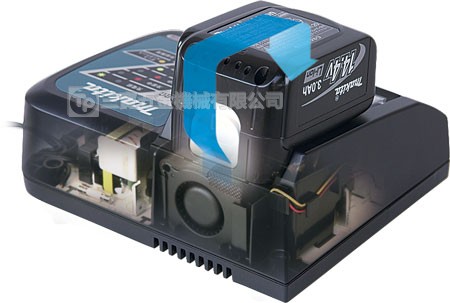 Well Balanced Charging
In the first diagram you can see how the Makita Lithium-ion battery charges evenly throughout all the cells and on discharging it drains evenly to resulting in an optimum charge. Compared to our competitors Battery Packs you can see how the cells do not get an even charge resulting in cells not being used completely, so that workloads are decreased at a charge.
Built-in Memory Chip
Makita's 18v & 14v batteries have a built in memory chip that records the battery useage history. While the battery is connected it will transmit the data to the charger.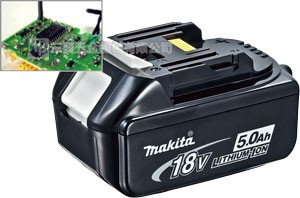 Built-in CPU
The CPU built in the charger analyzes its condition; high temperature, re-charge after full charged, over-discharging. The battery lasts long life because it can be charged at the best method and time.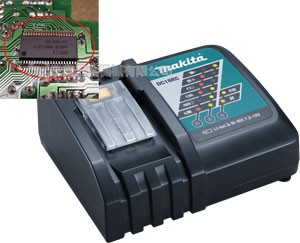 Compatible with over 60 Power Tools!
The 5.0Ah (BL1850) & 4.0Ah (BL1840) 18v Li-ion batteries will work with your 18V machine if it has a star on the connector plate, has a yellow connector plate with a star or has a yellow connector plate only. Look for the 『Star' or a 『Yellow Connector'